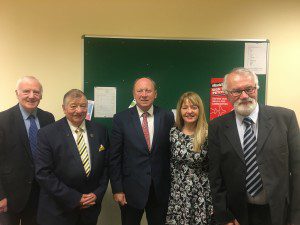 Left to right – Brian Symington, Dr Terry Riley OBE (BDA Chair), Jim Allister, Majella McAteer (BDA Northern Ireland Community Development Manager), John Carberry MBE.
Speaking after meeting the British Deaf Association this week TUV leader Jim Allister said:
"While there has been no end of focus on the alleged rights of Irish speakers in Northern Ireland in recent months there have been many groups and needs which have been overlooked. One such group is the deaf community so I was pleased to be able to meet representatives of the British Deaf Association in Stormont earlier this week.
"The needs of the hearing impaired are much more pressing. These are people who – unlike Irish speakers – don't have the luxury of a second language to communicate and there is a clear and pressing need to focus on the development of sign language services. In Northern Ireland sign language provision falls far short of that in other parts of the UK.
"In Scotland for example the British Sign Language Bill requires Ministers to develop a national plan for BSL (British Sign Language) and places an obligation on public-sector bodies to prepare and publish their own plans with the aim of increasing awareness of BSL and its use in the delivery of services.
"TUV strongly believes that we should bring in similar legislation in Northern Ireland and address the real needs of people who have been failed and let down by the powers that be."