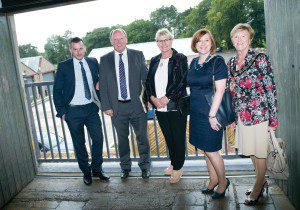 Statement by Cllr Timothy Gaston, TUV Bannside:
After attending the opening of the 200 year old  remarkable Wool Tower building Cllr Gaston said "I have long been a strong supporter of the vision the McKeown family have for Raceview Mill.
"When I visited the site 3 years ago it was an industrial derelict site, during every visit since I have been pleased to see the progress which has turned the Mill site into a vibrant tourist attraction currently housing 36 businesses.
"At the Wool Tower opening I was glad to see the desire not only to improve Broughshane but also the desire to become the local location to help better the entire Mid and East Antrim area.
"Last year the Mill successfully demonstrated their potential by hosting the main St Patrick's day pick up point resulting in over 2000 people passing their the Mill.
"The Mill has shown what it can do, now it's over to the Local Councillors, MLA's and MP to help to drive this Tourism asset forward."